Oregano (Origanum vulgare) Non-Native
Oregano (Origanum vulgare)
Parts used: aerial parts, essential oil
Medicinal uses: Helps to settle flatulence and stimulates the flow of bile; strongly antiseptic, it may be taken to treat respiratory conditions such as coughs, tonsillitis, bronchitis, and asthma; also considered to be a useful promoter of menstruation; the diluted oil can be applied to toothache or painful joints (Chevallier 242).
Additional uses: This plant is well known for its culinary uses. Flowers of oregano can be used in flower and herb arrangements (Kowalchik 403).
Cautions: Do not take medicinal does during pregnancy. External use may cause irritation to the skin. Do not take the essential oil internally (Chevallier 242).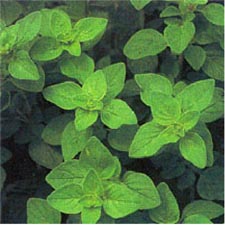 Pacific Northwest Medicinal Plant Guide (Check out all plants growing in Tryon Farm's medicinal garden!)