(If you don't see our pretty photos in this email,
click here to view it at our website
!)
"Thank you for takign us urannd the farm.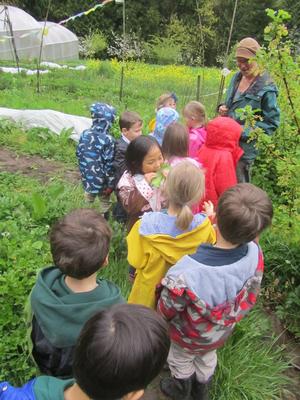 Love Theo PS. I stil wunt to lrne more"
"Thank you for giving us food form the grdin. I love the tast of fenl Love Jia"
"Thank you for the tor. PS i lik the goat Love Leoni"

These are some of the thank you notes I received from Oregon Episcopal School first graders, after they came to Tryon Life Community Farm for an educational field trip. In some ways, I should be the one writing the thank you note! To see a child's face light up as they dig in the dirt for worms, sample a variety of flavors from the garden: mustard greens (spicy!); lemon sorrel (sour); fennel (sweet!), watch the crazy goat antics, and get really dirty mixing cob. . . it is truly a joy to be able to share these experiences with students of all ages.

That is what TLC Farm is here to do: provide tangible experiences of a life lived in close relationship with the earth and each other. And, as spring ripens, there are many ways that you can get engaged with TLC Farm and this important work (fun!). The ripening of spring also means voting time; while TLC Farm seldom takes positions on electoral issues, we invite you to read on for our recommended no vote on adding fluoridation chemicals to Portland's water supply.

In this update (also available when you
friend us on Facebook)!
:
1) Village Building Convergence night at TLC Farm -- Building community through song: May 28
2) Bring your group to TLC Farm!
3) Community gathering -- Potluck Sunday Brunch: May 26
4) Dance in Nature Summer Camp
5) Saturday Workparties
6) Become a Friend of the Farm!
7) Fluoride in the water? No!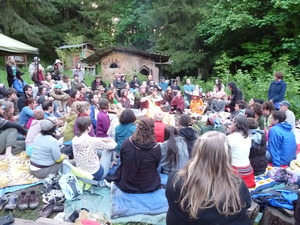 1) It's time again for the Village Building Convergence!
From May 24 through June 2, people will be coming together all over Portland to build community in many ways (see vbc.cityrepair.org for details). TLC Farm has long participated in the VBC, and this year we're happy to host a really great playshop, followed by one of the Decentralized Evening Events, on Tuesday, May 28th.

From 2-5pm, we'll host a fantastically fun playshop with Leif Hansen (aka Spark Guy). Participants will use impromptu theatre, music and movement to build skills for community collaboration. Visit our website at www.tryonfarm.org for playshop details.

From 5:30-10pm,
we're going to SING and PLAY, building community through fun and song. This will be a "Singing Alive" inspired evening, with multiple song circles--in the maple grove, around the bonfire, in our new yurt . . . Please bring your voice and spirit to share. We may also take walks in the twilight forest to visit the owls, and listen to the creek. We'll definitely be sharing yummy pizza from our cob oven - please bring toppings to share! Food and money donations will be happily accepted.

TLC Farm is not that far away from the city - but can feel like a different (lovely!) world. As always, parking is super limited, so we'll have a bike brigade leaving People's Food Co-op at 5 pm and a shuttle from the VBC Venue at Alberta Abbey (126 NE Alberta) running every hour, on the hour, starting at 5 pm.

2) Bring your group to the Farm!
A meeting, retreat, celebration, workshop, private class, spiritual event or other gathering at TLC Farm is something special. Here, the life of nature is woven into human experience: this place merges indoor and outdoor, living and artificial, wild and domestic.
Do you know of a group that might like to visit TLC Farm, either to get an educational tour through our Hands-on Sustainability Education program, or as a site for their own event? It's easy - let us tell you how!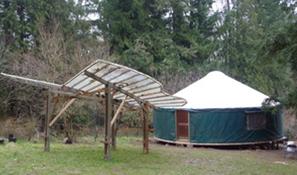 Hands-on Sustainability Education Program: This volunteer-run program has been busy over the spring: teaching cob building to first graders from the Oregon Episcopal School, sharing herbs in the garden with Head Start preschoolers, sharing deeply about community life with teenagers from Boys & Girls Aid, discussing permaculture with Lewis & Clark College students . . . If you know of a group that you'd like to bring to the farm for an educational tour, please let us know by contacting hos@tryonfarm.org and/or visit our website for more information.

Host your own event: The Village Green--with the new 30-foot yurt, giant outdoor kitchen, tea house, composting toilets, sauna and grassy lawn--is a wonderful venue for community connection. We operate via the gift economy, and invite groups to make donations for the space as they are able. Get in touch with forum@tryonfarm.org for more information and scheduling.

3) Community gathering! Potluck Sunday Brunch May 26, 11am-3pm
Meet new friends and enjoy the loveliness of TLC Farm! We want to introduce you to our new giant 30 foot yurt and celebrate the evolving beauty of this land and community! So c'mon over on Sunday, May 26th anytime between 11am-3pm, and bring food to share, an instrument, games, friends, children, picnic blankets and a smile!

This is the first of hopefully many Sunday brunches in our Village Green. We will pass the hat to collect donations for the yurt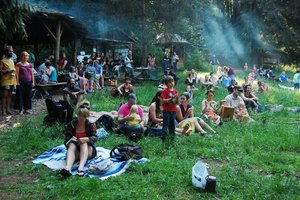 purchase and improvements (we are raising 5k this spring/summer for the purchase, wood floor and radiant heating).
Transportation and parking is a friendly adventure... If you drive, please park at Riverdale High School (corner of SW Terwilliger and Boones Ferry) and we will shuttle you over. Or bike! Or park at the Tryon Creek State Park Nature Center on Terwilliger and hike 15 min through beautiful forest!

Please, no parking at the top of our driveway or the neighborhood! Contact Jenny [at] tryonfarm [dot] org or 503-548-8459 if other arrangements are needed.


4) DANCING IN NATURE: A week long camp at Tryon Life Community Farm
For young people ages 4-8, Tuesday-Friday 9am-2pm
Week 1: June 25-June 28 Ages 4-6
Week 2: August 6-August 9 Ages 6-8

Come spend four days in this beautiful farm and forest setting and explore our bodies through imagination, story, rhythm, anatomy, animals, and the world around us. We will celebrate and play both inside TLC Farm's yurt, and out in the magical woods of Tryon Creek State Park, discovering our songs and dances inspired by the trees and plants surrounding us.

Registration and Fees:
Registration is first-come first-served (limit 8 participants). Cost is $200 per participant, and includes a snack. Some scholarships are available. Bring your own lunch and proper clothing for outdoor weather and that are easy to move in. You are welcome to visit the farm beforehand, and check out our website at www.tryonfarm.org.

To register, and for more information, please contact:
Keren Ganin-Pinto at kganinpinto7@gmail.com or 845.642.7976
Keren Ganin-Pinto is a dance artist and teacher who is a regular volunteer with Tryon Life Community Farm. She graduated from The Ohio State University with a Bachelor's in Dance. She has been a Reggio-Emilia based pre-school teacher at Tulip Tree Preschool in Portland, and has taught creative movement for several years to children.

5) Saturday Workparties
Saturdays are fantastic days to drop in for a visit, and on many Saturdays we host workparties from 11am-3pm. Check our website for details and dates (and friend us on Facebook!), and plan to bring a lunch. We will provide tools, fun collaborative projects and a beautiful community environment.

On Saturday, May 25th, Jenny and Isobel will be hosting the workparty, and we hope to be building new benches for our bonfire, as well as tending the plants in the conservation easem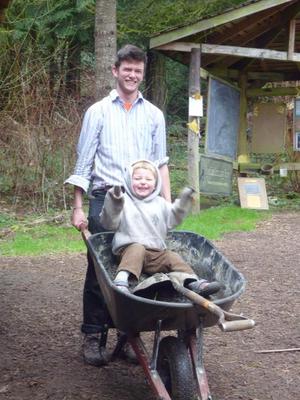 ent and/or beautifying the Village Green for the week's events (which you just read about, above!). Fun! Fulfilling! Fabulous!

6) Become a Friend of the Farm
TLC Farm runs mostly on creativity and love. Thus, we're able to make every donation go a very long way towards supporting this beautiful land and our ability to share with the broad Portland community. If you feel inspired by this work and feel like you can financially help support it, we invite you to become a Friend of the Farm, and give a monthly contribution of $5-$50 dollars. You can do it right now!

We hear again and again that people's lives are changed through their experiences at TLC Farm (check this out) and your support makes that possible! Thank you!

7) Please join TLC Farm in voting NO to fluoridation chemicals
This may be the first time that a TLC Farm update encouraged folks to vote one way or another on a controversial issue. However, we feel like there are many aspects of man
datory fluoridation that the City Government did not consider in its decision to add fluoridation chemicals to Portland's wat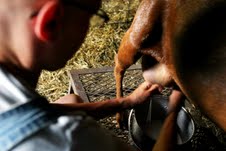 er supply. Rather than repeating the reasons that Sierra Club, NAACP, EPA scientists and Clean Water Portland have put forth, we wanted to share a few that are specific to TLC Farm:

1) Fluoridated water can cause fluorosis in goats! All of the studies being relied on to argue for the safety of fluoride ingestion focus on human consumption and do not assess the impact on agricultural animals, such as TLC Farm's dairy goat herd. Each of our milking goats ingests about two gallons of water a day, and adding fluoridation chemicals (which include small amounts of heavy metals) to their water can lead to increased risk of fluorosis and shortened lifespans.

2) Fluoridated goat milk! Studies on human breast milk show that ingesting fluoridated water increases fluoride content in breast milk, and—while goats were not similarly studied—we imagine the result would be the same. Thus, not only would our water contain fluoride, but also the fresh raw goat milk that so many enjoy and rely on.

3) Fluoride & heavy metals in our vegetables and soil! As our gardens are irrigated with Bull Run water, all of our organic herbs, fruits and vegetables will be irrigated with water containing fluorosilicic acid, arsenic, lead and even mercury. These heavy metals would accumulate in our soil and persist for years.

For the above reasons, and many more, we invite you to keep our fantastic Bull Run water clean and healthy by voting NO on fluoridation chemicals.