Dear TLC Farm friend,

A regenerative winter at TLC Farm is bringing freshness and rebirth to the land. After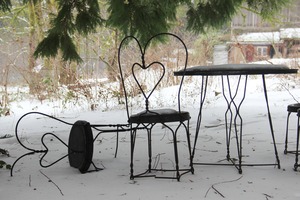 the
darkest, coldest part of the year brought tree-wrenching winds and a soft cleansing blanket of snow we are beginning to see the first reminders of spring. The weather cycle here is familiar to me as a first generation child of Tryon Watershed but my relationship as a TLC Farm volunteer is just budding.

Hi, I'm Liberty. I was born and raised on the SW end of Tryon Creek State Park. I was just entering high school when TLC Farm was emerging and after years of searching for an integrated land project I found the perfect one in my backyard! In my six months of participation in TLC Farm I have excitedly watched my homeplace merge with a people and place that practice and share wisdom of deep earth and community connection. More than ever I am rooting into relationships with people and the land. My personal story seems to be TLC Farm's mission manifest!

Now I am pleased to share with you what has transpired since the 2013 Holiday yurt-warming party and what is preparing to sprout up on the land.
In this update you'll learn...
What happened:
What is still to come:
---
On January 20th, 30 volunteers showed some love and care to the conservation easement which resulted i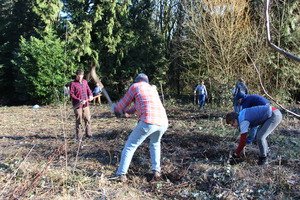 n an enormous pile of blackberry bush bones and some new homes for native species. Learn more about the event and hear dedicated volunteer, Axcelle, speak on OPB.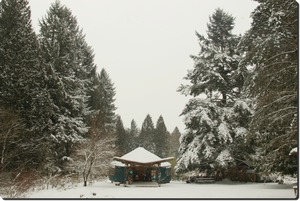 The growth and thriving of TLC Farm relies on the love and generous donations of our families and community. We are sincerely grateful for the $10,000 you helped us raise this past year. We met our general fundraising goal, but still have $5,000 to go for yurt expenses. Like snow collecting on a tree branch, every little bit helps to increase the beauty of our offering.

Support TLC Farm today with a donation to the yurt!

On January 27th, a group of TLC Farm volunteers transplanted 40 saplings to their new homes in the southeastern portion of the land. Joy and relief were palpable in the air that overcast workparty day. At last, the baby trees that have been nurtured in our nursery for the past two years have made it to their final residences. (Thanks so much to Karen Tillou and Mark Bassik of the Home Orchard Society and Flying Onion Farm, for helping us graft the baby trees 3 years ago!) The new additions will bring yet more abundance: welcome asian pears, plums, pears and apples!


In a rare and exciting snow storm starting February 6th, the land received 6-8 inches of
snow! The weather event brought a sense of cleansing to the land, providing a beautiful retreat-like atmosphere.
The snow held space for deep connection and ample play for the creatures of TLC Farm while simultaneously bringing a great survival challenge to some of the smaller critters, like the birds and rodents. Volunteers were determined to preserve the integrity of the yurt by removing snow from the roof. Thank you for caring so much about TLC Farm's facilities.
The Touching Earth Sangha, a medit
ation
group that
has been staying on the land for the winter months, remained diligent in their practices throughout the snow storm.
On MLK Jr. Day, we were visited by a reporter and photographer from the Lake Oswego Review, a local newspaper. Brenna answered some questions and spoke passionately about past and current events at TLC Farm. It's always exciting to see the voice of the farm amplified in the community. Hey everyone, this is your land. Come use it!


Read the article!
Tryon Life Community Farm will participate as one site in this weekend's watershed-wide restoration event. A work party will occur on the land from 10-2pm in an effort to continue removing blackberries from the conservation easement. Come on down and spend a day volunteering with some awesome folk.

RSVP here!
As leaflets begin to emerge from waking plants, we are invigorated with the fresh breath of coming spring. It's time to get our hands dirty on the land regularly with community folk, like you! Please join us every last Sunday for a workparty to tend the land and prepare for the growing season. Can't make it to the Watershed Restoration Event this Saturday? No problem. You can get a taste for these awesome, energetic workparties this coming Sunday from 10-2pm. Remember to bring a lunch!
Do you have apple, pear, or plum trees you'd like to keep in good fruit? Join experienced Hood River arborist Bo VanderKloot for a timely training on fruit tree dormant pruning. We'll cover the essentials of structural cuts, fruiting strategies, and healthy trees. We'll then put the theory into practice, with a special focus on an ongoing process of returning abandoned trees to full vigor and productivity.

Please bring your own pruning tools if you have them; we have only a very few to share.

Please RSVP to

participate@tryonfarm.org

-- we'll contact you we need to reschedule due to weather.
We are so honored to be hosting "Becoming We the People" an event that encourages and explores the power of finding our voices as citizens. The event will take place April 4-6 on the land. There will be workshops, camping and song integrated into the experience facilitated by Paul CienFuegos, Laurence Cole, and our very own Mother Earth School teacher, Kelly hogan.

Learn more and find out how to register on our website.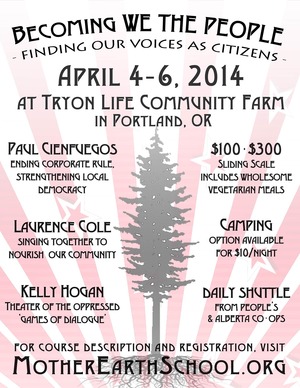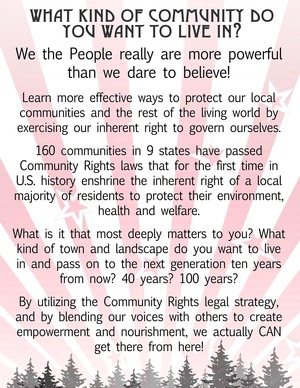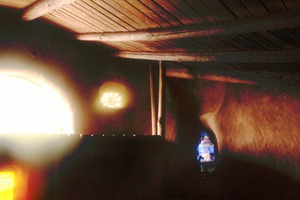 We are so pleased to announce that TLC Farm will be a VBC site again this year! Mark your calendars for the end of May to join us on the land to love-up the sauna and tend to other interesting projects. The sauna has been a cornerstone of natural building instruction and focused connection space for the land for years and will be for years to come. Spread the word!

Learn more about the VBC.



The sweet energy at TLC Farm has my heart warmly inviting you all to participate in some way, whether it's coming to an event, donating some money, or spreading knowledge of sustainable practices throughout your life.
I look forward to meeting more of you as this busy spring season picks up and more of your beautiful faces come to cherish this land with us.
Thank you for all you have done to build this beautiful learning sactuary that I feel in my bones will be athrive for generations to come.

Happy winter's closing,
Liberty
---
---
Tryon Life Community Farm
11640 sw boones ferry rd
portland, Oregon 97219
US


Read the VerticalResponse marketing policy.