Hands-on Sustainability Education
Hands-On Sustainability Program

Tryon Life Community Farm provides students of all ages with opportunities to connect with the natural world and each other to create a true sense of place and community. Our goal is to encourage people to develop a lifelong appreciation of the processes that support life, and to offer wisdom on how to steward them sustainably. To do this we offer this space for collaborative learning about social and ecological responsibility.
The Hands-On Sustainability Program offers one-time and multiple visit field trip experiences for students of all ages to come and learn about applied sustainability and creating community in a participatory way.
Activities include an interactive farm tour and seasonally appropriate hands-on activities and lessons on specific sustainability and ecology themes in these areas: ecological gardening, natural building, restoration and watershed ecology, and ecological living skills. We also offer service-learning projects.
Facilities include:
"Village Green" open gathering area

Outdoor kitchen (with earthen ovens)

Ecological Living Demonstration Projects (gardens, animals, naturally built structures, etc.)

Trail leading into Tryon Creek State Park (650-acre forest)

Large organic garden to nibble at and work in

goats, chickens, and bees
Bring your group out to the farm!
Field Trip Scheduling: TLC Farm offers field trips Tuesday through Saturday. We are an all-volunter program, and will work with you to coordinate a time that is good for your group and our volunteers. The farm is open to the public Tuesday-Sunday between 9-6pm for self-guided tours, and it is closed on Mondays.
Cost : TLC Farm runs on donations, and requests that visiting classes donate $10/visit plus $5 or more per student if at all possible.
Contact us: For further information or to arrange a visit, please contact our education coordinators, at edu[at]tryonfarm.org or by calling 503.245.3847.
Groups served include: Portland area schools, Boys and Girls Aid Society of Oregon, Girl Scouts, Portland Impact, Head Start, YMCA, Pacific Crest Community School, Waldorf schools, International School, charter schools, Lewis and Clark College PSU, PCC, and homeschool groups. Click here www.tryonfarm.org/share/calendar for our calendar to see who's visiting us!
Recflections about the program:
"Many of the students were totally new to the concepts of intentional living and, during discussions, expressed that they got a lot out of what they experienced at the farm. We would like to (endlessly) thank you for your patience with everyone. Earthen building was their favourite activity, but canning and making cheese was also a highlight for many people during reflections throughout the rest of the trip - as well as learning about the edibility of plants like fennel & broccoli leaf. The space was excellent for the students to open up to each other." - Hannah, coordinator of a New Student Orientation group from Pacific University.

Resource Links:
Interested in starting a school garden? Check out this great school garden resource web page from local group Growing Gardens.

Other local educational farms:
Zenger Farm - located in SE Portland in the Lents neighborhood
Sauvie Island Center - located north of Portland on Sauvie Island
Organic Education Center at Luscher Farm - located outside Portland in West Linn
Volunteer Educators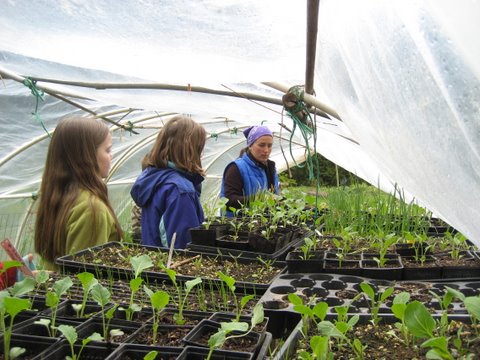 Do you have a passion for working with kids in an outdoor setting? Are you excited to learn about sustainability while passing on your knowledge to the next generation? Then get involved in our Hands-On Sustainability youth education program by becoming a 'Volunteer Educator.' Now recruiting volunteers for 2014.
---
Volunteer Educator Position Description
(possible internship or independent study credit available)
Our Hands-on Sustainability Program engages youth ages preschool through college in an interactive farm tour and hands-on activities and lessons on specific sustainability and ecology themes (gardening, natural building, forest ecology, restoration, etc.). There are opportunities for volunteers to develop ongoing relationships with groups that visit regularly.
Volunteer Educators will lead youth field trip activities at Tryon Life Community Farm using activities from TLC Farm's Curriculum and their own creativity.
Volunteer Training:
Training for each volunteer educator includes attending a training session and observing / co-teaching 1-2 classes before being the primary teacher for visiting students.
Sign up for our next Volunteer Training! Check in late spring 2014 - date TBA. Contact Isobel at hos(at)tryonfarm.org for more info and to register. Training is free and lunch will be provided.
Volunteer Commitment: We are now recruiting volunteers who can commit to leading regular field trips throughout the winter and spring (although a longer commitment would be great!) Each volunteer will commit to leading a trip twice per month. We can arrange your commitment based upon your current schedule and the requests we get from interested youth groups and schools. Field trips are usually scheduled 9am and 5pm, Wednesdays-Saturdays.
Requirements: Volunteers must have prior experience working with youth in an educational setting. Experience with sustainability education is a plus, but not required. Must be willing to have a background check if you do not currently work within a school system or other employer where it was recently required.
For more information please contact our Hands on Sustainability Education Coordinator.
Email: hos (at) tryonfarm.org
Farm Phone: 503.245.3847