Huckleberry (Vaccinium spp.) Native
Huckleberry (Vaccinium spp.)
Parts used: fruit, leaves, bark
Medicinal uses: The juice of the berries was consumed as a beverage to stimulate the appetite or as a mouthwash. The leaves and bark were used in decoctions that were gargled for sore throats or inflamed gums (Pojar 57).
Other uses: The fruit was traditionally gathered by many Native American tribes in the Pacific NW. The fruit was an important source of vitamin C and was often dried and useful in trading. The foliage is relatively high in carotene and carbohydrates.
(http://extension.oregonstate.edu/warmsprings/huck.php).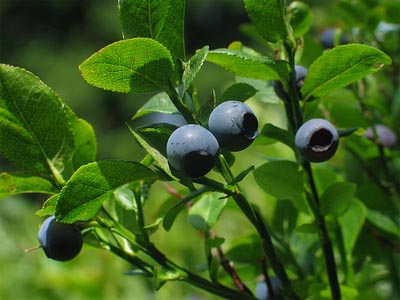 Pacific Northwest Medicinal Plant Guide (Check out all plants growing in Tryon Farm's medicinal garden!)